Upcoming Events
A mass spectrometry-based toolbox for extracellular vesicle research
Gabriella Pocsfalvi
Extracellular Vesicles and Mass Spectrometry Research Group, Institute of Biosciences and BioResources, National Research Council of Italy, Naples, Italy
Lecture Series in the frame of the ModifyAllergo programme
12.02.2019, 4 pm
Seminar Room 1.003, Max Planck Institute for Polymer Research
The talk will focus on the basics of extracellular vesicles including their biogenesis, biocargo compositions and roles in physiological and pathological processes. Mass spectrometry (MS) owing to its versatility, sensitivity and speed has become a fundamental tool in the identification, characterization and quantitation of most chemical entities of EVs. In fact, proteins, lipids, and metabolites are routinely analyzed by MS, typically coupled on-line with chromatography. This fostered the collection of large datasets and their organization in databases, which became fundamental tools in EV research.
Previous Events
30. Mainzer Allergie Workshop
Scientific conference of the DGAKI
22.-23.03.2018
University Medical Center Mainz, Dermatology Clinic
The "30. Mainzer Allergie Workshop" will take place at the 22.-23.03.2018 in the lecture hall of the Dermatology Clinic at the University Medical Center in Mainz. This conference is organized by Prof. Dr. Grabbe and Prof. Dr. Saloga from the Dermatology Clinic in coorparation with ÖGAI (Österreichische Gesellschaft für Allergologie und Immunologie) and SGAI (Schweizerische Gesellschaft für Allergologie und Immunologie). The workshop focuses on the research fields immunology and allergy and provides a platform for the exchange of research results as well as for fruitful discussions. In addition, the three best abstracts will be awarded during this conference.
Nanoparticles will be one topic which we integrated into this event in order to booster the interaction of material scientists with clinical specialists.
Life Science Applications of Magnetic Nanoparticles
Dr. Cordula Grüttner, micromod Partikeltechnologie GmbH, Rostock, Germany
For more than 20 years, micromod Partikeltechnologie GmbH has been the reliable supplier of magnetic nano- and microparticles located in Rostock. The focus of micromod as a technology-oriented company is directed to the development and production of monodisperse micro- and nanoparticles from various materials, including different sizes and covering a large spectrum of physical and chemical modifications. Examples of the manifold application fields of magnetic micro- and nanoparticles in diagnostics, therapy and ecology will be highlighted in the presentation:
magnetic resonance imaging (MRI) and magnetic particle imaging (MPI),

hyperthermia with alternating magnetic fields,

biosensor and lab-on chip design,

homing and tracking of stem cells,

the specific targeting of cells and organs, or

the separation of radionuclides or other metal ions.
Current developments regarding standardization of measurement methods for characterization of magnetic nanoparticles will also be reported.
An apple a day keeps the doctor away - new insights into treatment options for birch pollen-related food allergy
Prof. Barbara Bohle, Medical University of Vienne, Austria
Birch pollen-related apple allergy is among the most prevalent food allergies in adolescent/adult individuals and mainly results from sensitization to the major birch pollen allergen Bet v 1 and subsequent cross-reaction with the apple protein Mal d 1. However, specific immunotherapy with birch pollen has inconsistent effects on apple allergy. This impression was possibly fortified by the lack of standardized test methods to evaluate the clinical effects on the food allergy.
We sought to overcome these drawbacks by employing the standardized and well characterized recombinant apple allergen rMal d 1 for treatment and evaluation of clinical efficacy. Sixty patients with birch pollen-related apple allergy were randomized to daily sublingual application of placebo (n=20) or 25 µg of rMal d 1 (n=20) or rBet v 1 (n=20) for 16 weeks. Adverse events were regularly recorded. Sublingual challenges with standardized doses of rMal d 1, skin prick testing with recombinant allergens and measurements of allergen-specific IgE and IgG4 antibodies were performed before and after treatment.
Both formulations caused comparable, mainly local adverse events and no systemic reactions occurred. SLIT with rMal d 1 significantly reduced rMal d 1-induced oral and cutaneous reactions, accompanied by enhanced rMal d 1-specific IgG4/IgE ratios. Notably, SLIT with rBet v 1 failed to improve the clinical reactivity to rMal d 1 and to enhance rMal d 1-specific IgG4/IgE ratios. Patients receiving placebo showed no allergen-specific changes.
We demonstrate that SLIT with a recombinant food allergen was safe and clinically effective as determined by standardized challenges. We conclude that SLIT with rMal d 1 is a promising concept for effective treatment of birch pollen-related apple allergy. Surprisingly, the outcomes of SLIT with rBet v 1 differed significantly and revealed that secondary food allergy cannot be effectively treated with the sensitizing pollen allergen.
Exploiting Nanomedicine for Tackling Pancreatic Cancer
Khuloud Al-Jamal. BSc, PhD, FHEA
The Institute of Pharmaceutical Science, School of Cancer & Pharmaceutical Sciences, King's College London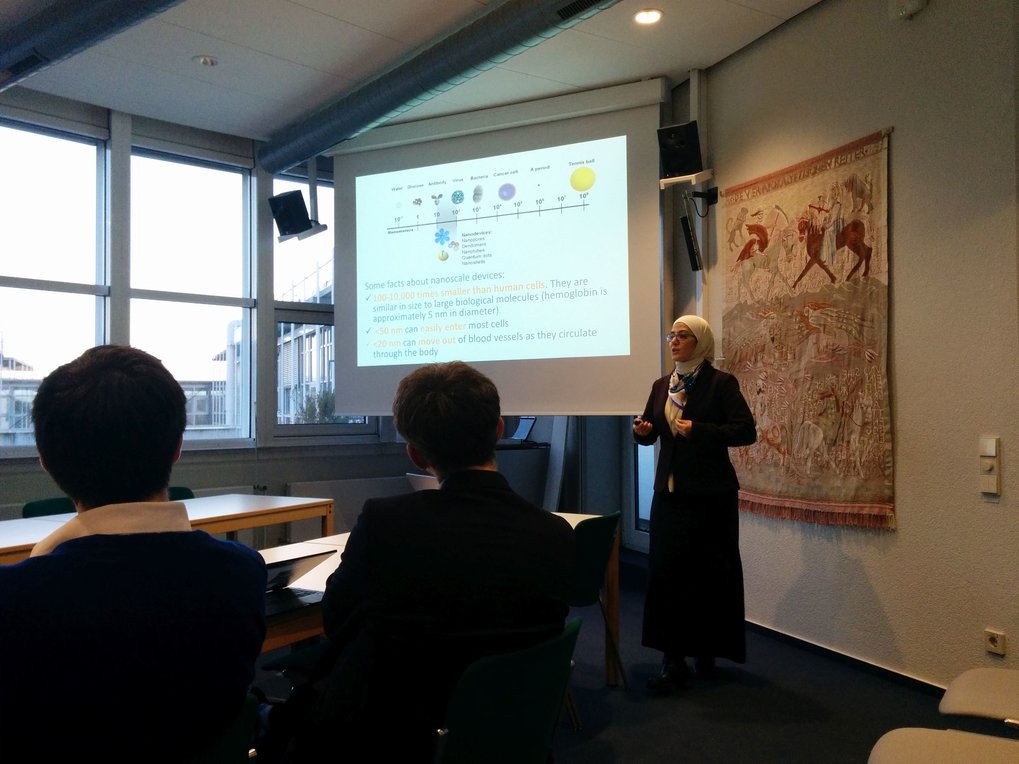 Zoom Image
Prof. Al-Jamal giving a talk at the MPIP
Prof. Al-Jamal giving a talk at the MPIP
Pancreatic cancer (PC) currently has no effective treatment. The development of various types of delivery systems for delivery of small molecules or biologics is an important topic in the field of cancer therapy. This talk will describe a few examples of the rationale design and formulation of nanomedicines for the purpose of targeting pancreatic cancer cells in mouse tumour models. In those examples, the right clinical question and the unmet were firstly identified. The delivery of therapeutic molecules e.g. glabrescione, gemcitabine or bisphosphonates to pancreatic cancer cells, or more specifically to the cancer stem cell population, was facilitated by the use of polymer-drug conjugates, polymeric nanocapsules or liposomal formulations. Targeting could be achieved passively, actively (αvβ6 receptor) or via molecular targeting (hedgehog signalling pathway). Combinatory chemotherapy (liposomal bisphosphonates) with cell-based therapy (γδ T cells) has shown to offer advantages to monotherapy. Such studies were also supported with live imaging and quantitation at the target site in vivo.
Hodgins et al . (2017) Investigating in vitro and in vivo αvβ6 integrin receptor-targeting liposomal alendronate for combinatory γδ T cell immunotherapy. J Control Release. 2017 Jun 28;256:141-152.

Ingallina et al. (2017) Polymeric glabrescione B nanocapsules for passive targeting of Hedgehog-dependent tumor therapy in vitro. Nanomedicine (Lond). 2017 Apr;12(7):711-728.

Dubey et al. (2017) Novel hyaluronic acid conjugates for dual nuclear imaging and therapy in CD44-expressing tumors in mice in vivo. Nanotheranostics. 1(1): 59-79.